This walkthrough features chapter 1 stage 20 of D&R 2. You are trying to enter a temple by using items that you find in the area. Solve the secret and escape to the temple by getting a gemstone and a password to unlock the stone door. The solution lies in Roman numbers and digit conversions. Please use our walkthrough to help you solve the puzzle and escape! If you are still having trouble beating the stage, please feel free to leave any questions that you may have.
We have divided the walkthrough guide into 3 sections to help you backtrack if you have already passed the stage. If you are aiming for 100% three star completion the first time around, simply follow the steps in order.
Main Escape | Bonus Star | Quiz Solution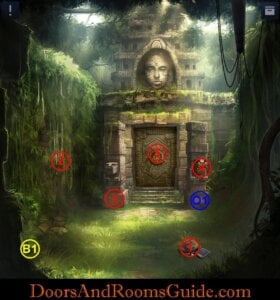 Main Escape
1. Briefcase: Someone left their backpack on the ground. Examine the backpack and notice a locked briefcase. Note the name on the password (Lee Jong Han). Use the initials from the name on the passport to unlock the briefcase: LJH . Open the briefcase to find a knife and brush.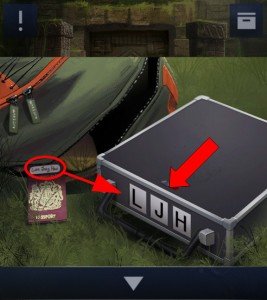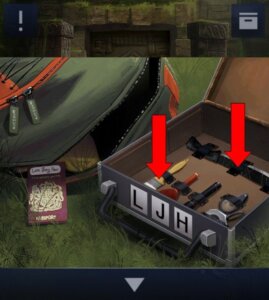 2. Wall: Cut off the leaves with the knife. Look closely at the puzzle shown underneath. Rotate each block so that each element is connect with another element, your goal is to pair all of them up like a pipe flow game. Use the solution shown if you are having problems. A secret compartment is then opened with a blue gemstone for you to grab.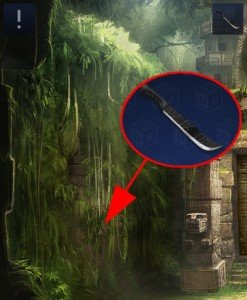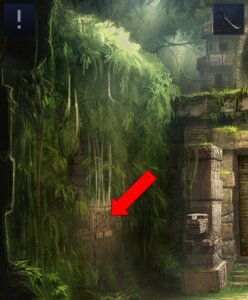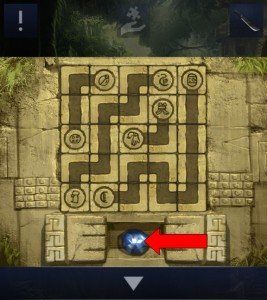 3. Cipher: Look at the bottom of the left column. Clean the surface with the brush to reveal a cipher clue. Use the cipher to translate the pipe-flow puzzle. The secret is to connect the dots using the symbols. After connecting the dots you will find the solution in Roman Numerals VII, IV, XII. Convert that to digits for the password: 7412.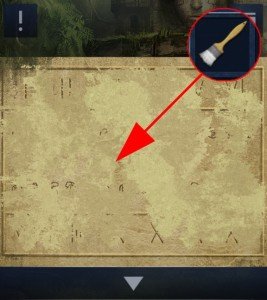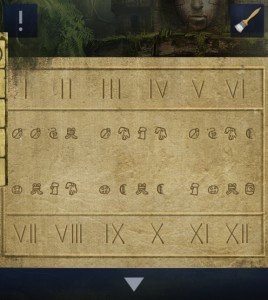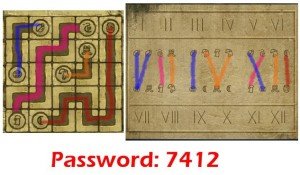 4. Eye: The statue at the right column is missing an eye. Insert the blue gemstone obtained from step 2. The mouth will open with a number lock. Enter the password: 7412 and pull the handle.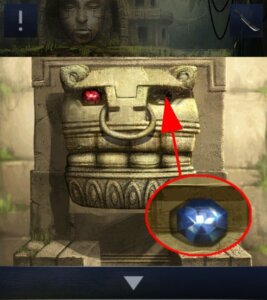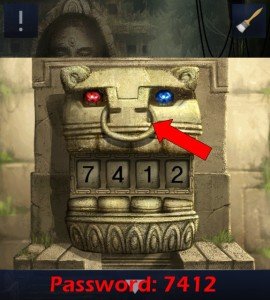 5. Door: The door opens for you to escape from the scene.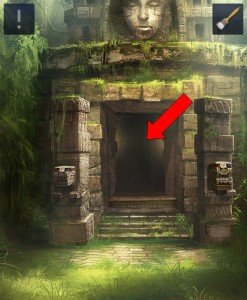 Bonus
B1. Take the star-shaped leaf on the bottom-left corner for the bonus star credit.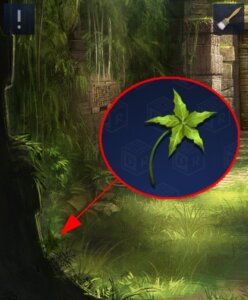 Quiz
Q1. Locate the Quiz at the bottom of the right column. The quiz shows an image of a knife. Use that as your hint and open your inventory. Examine the knife. The knife has the following engravings: IV, IX, III which converts to digits 4,9,3. Enter password 493. You have solved the quiz!