This stage is located inside an egyptian tomb. You will have to solve a fairly complicated puzzle while guessing the secret of the vases to escape from the room. We have provided a detailed walkthrough to help you escape. Please let us know if you are still having any troubles passing the stage.
We have divided the walkthrough guide into 3 sections to help you backtrack if you have already passed the stage. If you are aiming for 100% three star completion the first time around, simply follow the steps in order.
Main Escape | Bonus Star | Quiz Solution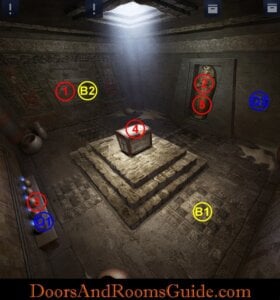 Main Escape
1. Puzzle: Check out the stone tablet on the wall. Your goal is to turn everything "off" to solve the puzzle. If you are having problems with this, we have provided a solution for you. Simply tap on all the red X's as shown in the solver below to pass the puzzle. A compartment to the right will open. Obtain a head piece.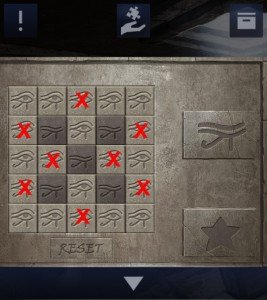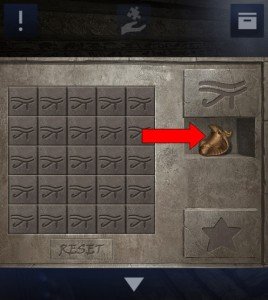 2. Sarcophagus: Grab the staff stick from the sarcophagus. Combine the staff stick with head piece.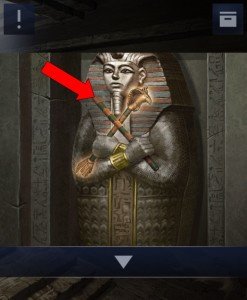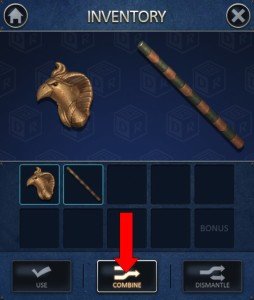 3. Vases: Insert the staff on each vase. The staff is painted with stripes. Count the number of stripes submerged inside the vase.
Bird: 8
Horizon: 4
Staff: 3
Crab: 6
Eye: 5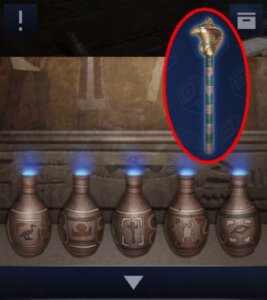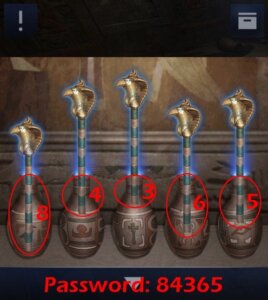 4. Chest Box: Enter the password obtained from the previous step: 84365. Get an end piece from the unlocked chest.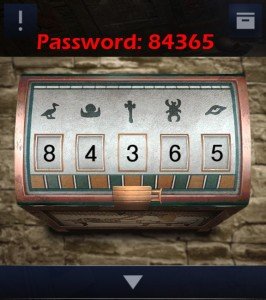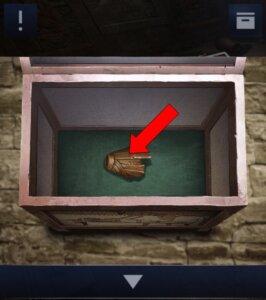 5. Staff: Complete the staff by attaching the end piece. Insert the staff back onto the sarcophagus. The Sarcophagus will light up. Exit through the sarcophagus and escape to the next room!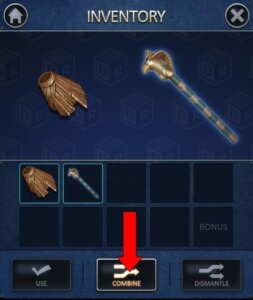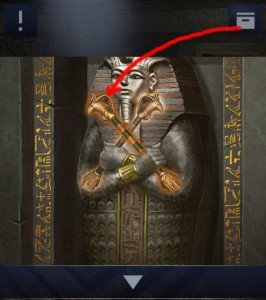 Bonus Star
B1. Notice the star carved on the floor. The puzzle shows you how to get the bonus star from the lights out puzzle.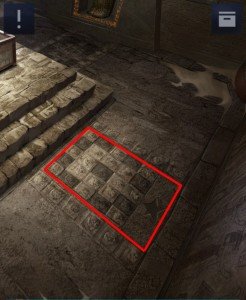 B2. Go back to the stone tablet on the wall. We have provided a solution to help you if you are having trouble with it. The solution guide continues after you have obtained the wand head piece. Simply tap on all the X marks to unlock the bonus star. A secret compartment will then reveal. Grab the stone star.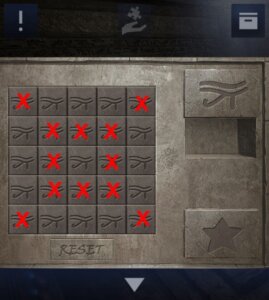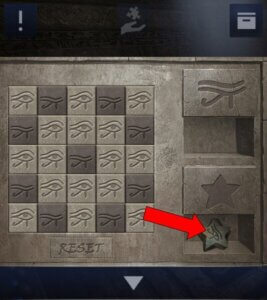 Quiz
Q1. Go back to the vases. Notice the number hidden inscribed between the vases. Put them together to obtain the password: 3584.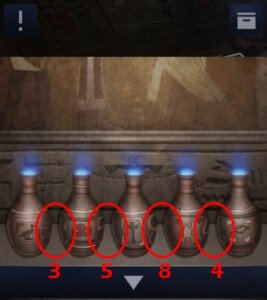 Q2. Locate the quiz on the wall. Enter the password: 3584 to finish the quiz.