The jeopardy game show has ended in Chapter 2 Stage 14, but you are still trapped on the film set. With clues left all over the room, retrace the steps of the jeopardy game to uncover the final winner to make your escape. Follow our step-by-step walkthrough to achieve a 3-star rating. Please feel free to leave comments if you are still stuck after using our D&R 2 walkthrough.
We have divided the walkthrough guide into 3 sections to help you backtrack if you have already passed the stage. If you are aiming for 100% three star completion the first time around, simply follow the steps in order.
Main Escape | Bonus Star | Quiz Solution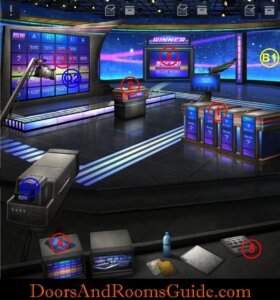 Main Escape
1. Contestants: Go over to the contestant podium counter. Tap on each buzz button. Each podium lights up in a different color. Below is a list of the names and their corresponding color.
Cabon – Red
Marcy – Yellow
Tail – Purple
Jim – Green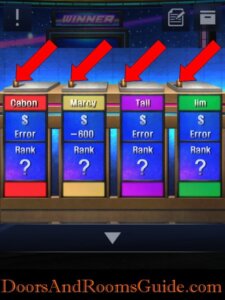 2. Host: Check the host podium counter. Retrieve a pen and a piece of scratch paper.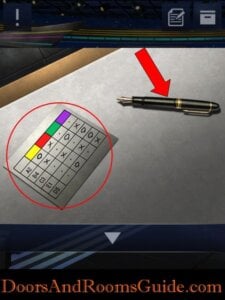 3. Jeopardy Board: Compare the jeopardy board to the host's scratch paper. You can then figure out how many points each contestant scored. Below is the calculation used to find out their final points.
Marcy (Yellow) = +A2-B4 = +600-1200 = -600
Cabon (Red) = -A2-C3+D5 = -600-900+1500 = 0
Jim (Green) = +B4-E1 = +1200-300 = +900
Tail (Purple) = -B4+C3+E1-D5 = -1200+900+300-1500 = -1500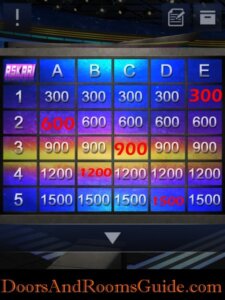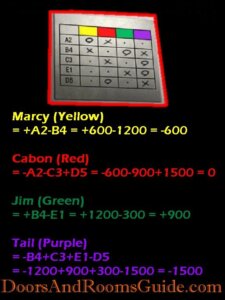 4. Battery: Look under the rag. Get a battery.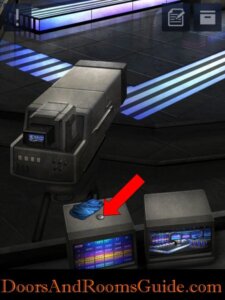 5. Ranking: Locate an input device on producer's desk. The device is out of battery. Dismantle the pen. Use the pen cap to loosen the screws at the bottom of the device. Remove the cover and insert the battery. The device is now powered-up.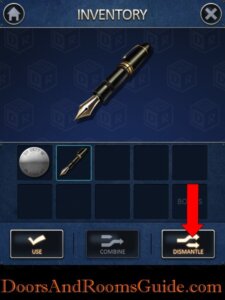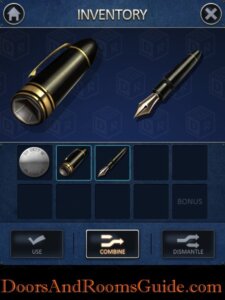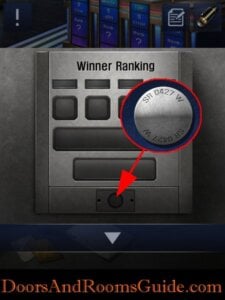 Rank the contestants based on their earned Jeopardy score.
Jim(900) > Cabon(0) > Marcy(-600) > Tail(-1500)
1. Jim
2. Cabon
3. Marcy
4. Tail
Enter the winner ranking into the device: 2341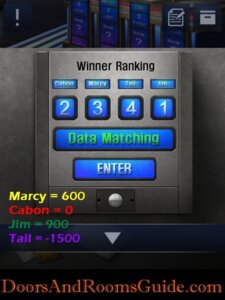 6. Winner: Check out the monitor on the right. You will see that the Winner's name is put on the display. Tap on the display to open the door. Exit the set and complete your room escape!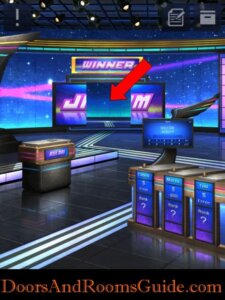 Bonus
B1. Bonus star is hidden among the backdrop to the right of the stage.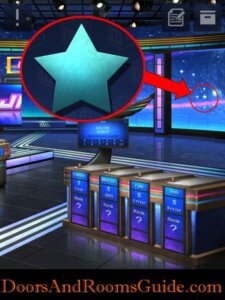 Quiz
Q1. Locate the video camera screen. Get clue: D4 = 1200 A125 = ?.
Q2. Look at the jeopardy board. Imagine the board is extended all the way to A125. An A125 jeopardy slot will be worth $37500 based on $300 x 125 = $37500. Enter the password: 37500 to ace the quiz.