In Doors and Rooms 2 Chapter 3 Stage 5, you enter a Korean study room. The room is full of hidden gadgets. Our walkthrough guide guarantees a three-star game play.
We have divided the walkthrough guide into 3 sections to help you backtrack if you have already passed the stage. If you are aiming for 100% three star completion the first time around, simply follow the steps in order.
Main Escape | Bonus Star | Quiz Solution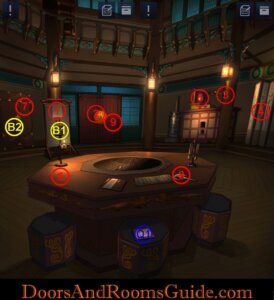 Main Escape
1. Paper: Take a piece of blank paper from the the board.
2. Purple Ball: Grab the purple ball on the door.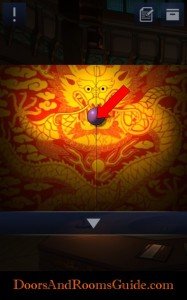 3. Arrow: Get an arrow with a paper attached from the column. Dismantle the arrow and paper with Go game white stone placement instruction.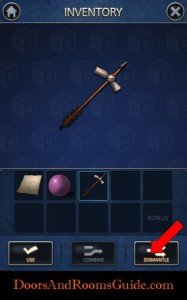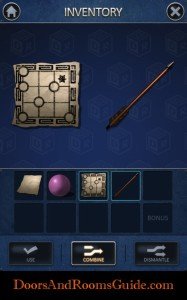 4. Screen: Locate a drum behind the screen wall. Use the arrow to break the surface. Retrieve a figurine.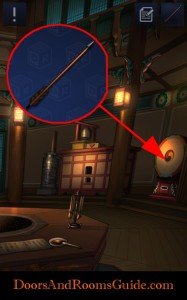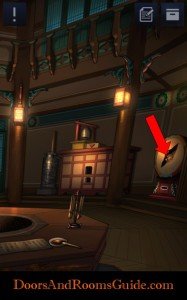 5. Bell: Place the figurine on top of the box next to a bell. Tap on the red button beneath the figurine. A key will drop from the bell. Grab the key. Place the purple ball into the hole marked in red. A metal piece will dispense from the other end.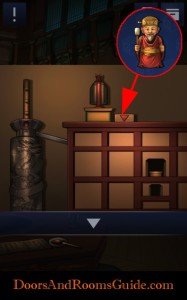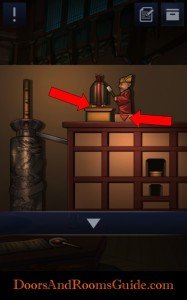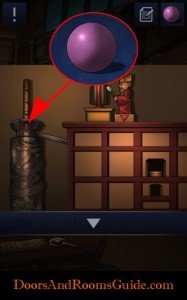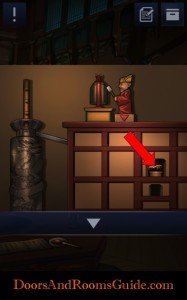 6. Candlelight: Place the metal piece on the table beside the candle. Three characters are formed with the shadow: ㅇㅛㅇ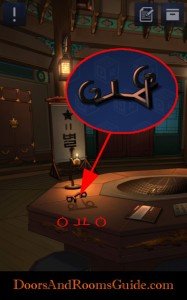 7. Locked cabinet: unlock the cabinet with the key. Inside is a vending machine. Enter characters: ㅇㅛㅇ. A package will dispense. Dismantle the package. Get a dragon stamp and a pearl.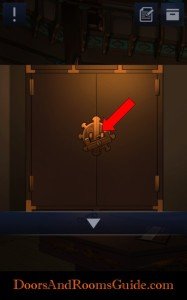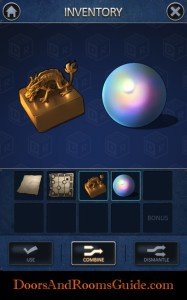 8. Ink: Dip the dragon stamp with ink on the table. Use the stamp on the piece of paper. Get an instruction for Go Game black stone placement.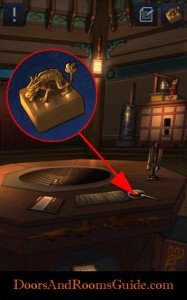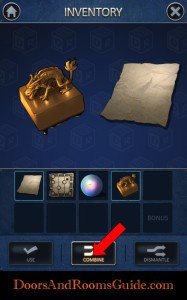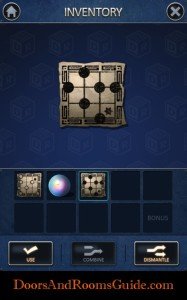 9. Pearl: Insert the pearl on the door. A Go game board will appear. Place the stones according to the instruction. Notice the location of the star and the boarder design. The instruction for white stone needs to be rotated. The instruction for black stone is inverted. Solution is as shown in the image below. Tap the red tab once all the stones are placed. The door is unlocked.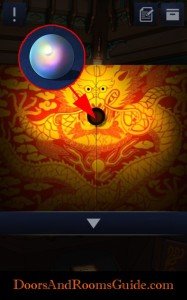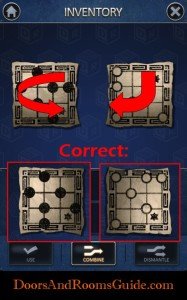 Bonus
B1. Notice the star on the board. Break apart the character on the board. You will get: ㅂㅕㄹ.
B2. Go back to the vending machine. Enter characters: ㅂㅕㄹ. Tap on the bar. Bonus star will be dispensed.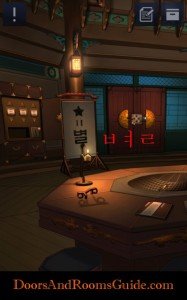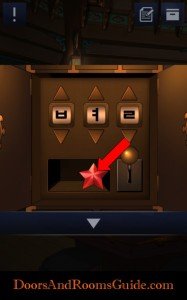 Quiz
Q1. Locate quiz paper on the chair.
You are given the hint: ㄱ=1, ㄷ=2, ㅇ=0
Count the angles in each character. 평 = 840, 탁 = 421, 널 = 124
Do the math: 840 + 421 – 124 = 1137
The answer to the quiz is 1137.