How to Unlock Stage 9:
Are you stuck and do not know how to access Stage 9? Follow the below steps to help you access the locked level.
Note: Secret Item – Secret battery is found in stage 6.
S1. Go to Stage 5. Locate keypad with battery missing. See our stage 6 walkthrough to obtain secret battery.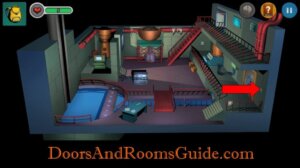 S2. Insert battery. The door is opened. Stage 9 unlocked.